Tahiti - September 2003
Bora Bora
Click on the images to see them enlarged.
Images will open in a new window, so just close it to return to this page.
After a nearly 8-hour flight to the international airport on the main island of Tahiti, we took a smaller aircraft

to our first destination in paradise - the island of Bora Bora

, as seen here on our arrival

. We landed on a small island that was solely dedicated to the airport

.
All arriving passengers were ferried away by boat, and since our resort was located on its own dedicated islet (called a motu), we stepped into the boat sent by the Pearl Beach Resort
, and were soon treated to the view of our paradise away from home

. After checking into out over-water bungalow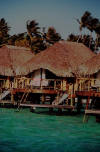 , we decided to take it easy for the first day and simply relax on the resort's beach

and pool.
The next day, we joined a Jeep Safari tour

through the main islands. It was fun, and in parts quite rough and exciting ride, through lush forests, but it was clearly worth it when we were treated to breath-taking views


and even historic artifacts

(in this case, from the American occupation during World War II). And with any good tour, there is also some relaxation included. We stopped for lunch cocktails at "Bloody Mary's"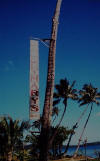 , which allowed us to savor native art

, and reflect on the various celebrities

that enjoyed lunch or dinner here before us. And in Tahiti, every tour will stop or end with the obligatory visit to a Black Pearl shop, where one can purchase beautiful black pearls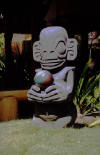 - although this specimen is a slightly oversized.
In the evening we enjoyed cocktails and local music at the bar

, then a dinner that was usually plentiful and scrumptious

, and sometimes the hotel provided life entertainment with a Polynesian dance show

. This left us plenty tired. But then we couldn't wake up fast enough, out of fear that we might forgo the biggest luxury we enjoyed - breakfast delivered by outrigger canoe

, and eating outside over the lagoon waters

. The bungalows were arranged in such a way that we enjoyed maximum privacy.
Other activities that we enjoyed, included snorkeling

with manta rays


, which was an incredible experience. We also spent half a day sailing on a catamaran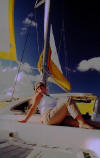 , which was very relaxing

. Another favorite was the aqua safari

that we joined for a few hours. The company used helmet diving technology to lower us to the seafloor, where we fed the colorful tropical fish and experienced the feeling of how astronauts walk on the moon.
Unfortunately, we had to leave the most beautiful and luxurious of the three islands

we visited too soon. But we sure are hoping to be able to return someday.