Tahiti - September 2003
Moorea
Click on the images to see them enlarged.
Images will open in a new window, so just close it to return to this page.
Coming from Manihi

, Moorea was our last stop. But getting there was an adventure in itself. After we got out of the small aircraft that brought us from Manihi, we transferred to the inter-island terminal, which was a small building at the far end of the international airport. There we boarded an even smaller plane, one in which it was possible to see the pilot

(and there was only one pilot) strap on the seatbelt and take off for the 10-minute flight.
After the short flight we arrived at the Moorea Pearl Beach Resort

. Although not as luxurious as Bora Bora, this resort was newer

and seemed to be better run. Upon arrival we were immediately transferred to our room

, which was very nicely decorated. Again, we had an over-water bungalow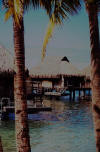 , but other accommodations were also available

.
On one of the evenings, we visited a native open-air theatre, called The Tiki Village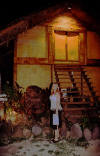 . Locals live in the village in the traditional lifestyle

. We were treated to a a tour of the village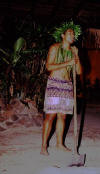 , and a meal cooked in the local style - an underground oven

. After dinner, we enjoyed a Polynesian show

that told the story of the love of a prince and princess from different islands

. For the celebration of their romance, fire dancers came to life

and performed astonishing tasks, such as balancing burning torches on their feet

.
On Moorea, we also joined a Jeep Safari tour, which took us to some spectacular viewpoints

. At the end the guides prepared a fresh fruit tray

with pineapple, papaya and grapefruit using large leaves as the plates. Back at the hotel, we enjoyed another canoe breakfast

on our patio

. After dinner, the hotel also presented us with their Polynesian dance show, including fire dancers

. We even got to meet the cast

.
On the morning of our departure, we

joined a whale and dolphin watching excursion with Dr. Michael Poole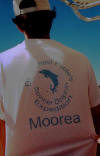 . Dr. Poole has been studying whales and dolphins in Tahiti for over 16 years, and since he was personally leading the expedition, he shared a lot of knowledge with us. We spent some time with Spinner Dolphins

. But the big highlight came, when we found a humpback whale mother

, and her new-born calf. After several dives

, the mother finally decided to rest for a while, and Marc joined a group of snorkelers

who snorkeled with the 42 foot whale

. When the calf and then the mother decided to surface very close to the group

, it was the experience of a lifetime, and the highlight of the trip to Moorea.
We were sad to leave these beautiful islands, but we hope to be back someday.